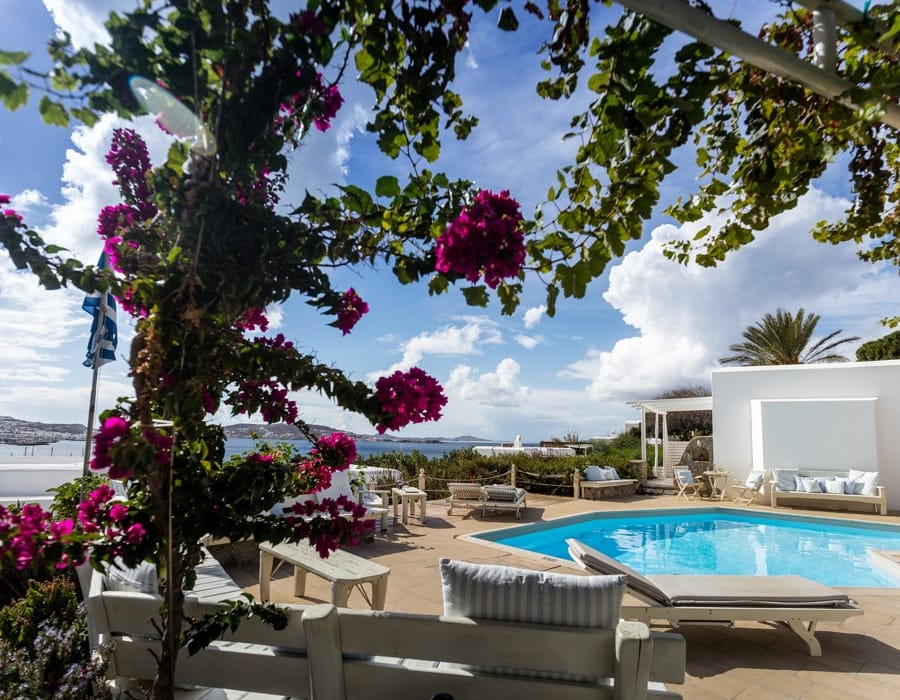 Welcome to Rhenia Hotel & Bungalows in Mykonos
Enjoy the authentic Mykonian Hospitality
The love for Mykonos and desire to share the gift of hospitality has been the inspiration behind the Fiorentino family since 1924 when they first entered the hospitality scene with the historic hotel Delos in Mykonos Town . Their passion for tourism and the determination to deliver the very best that the island of Mykonos has to offer, has led to the establishment of their second property Rhenia, designed to highlight the island's genuine character and welcome the true admirers of the authentic Mykonian beauty.
Built by Mykonian craftsmen in 1966, Rhenia Hotel & Bungalows has been designed with passion and respect to the island's tradition and architecture and was inspired by the famous Xenia hotels that were very popular in the '60s. The result is a timeless design that has been adapted to the modern era and is up to date while maintaining its character.
Our aim is to offer our visitors a holistic hospitality experience filled with Mykonian images, scents and flavors. To ensure that they always sense the warmth of home surrounded by good energy and feel welcomed by a staff that is always ready to attend to their every need with great care and enthusiasm.
Rhenia Hotel & Bungalows enjoys a one-of-a-kind location over Tourlos Bay, only 2km from downtown Mykonos with gracious spaces and captivating views to Mykonos Town, the Aegean sea and the sacred island of Delos. A pristine oasis with a beautiful garden where guests can contemplate the island's authentic grace and scarlet painted Mykonian skies.
We consider each guest to be unique and thus create one-of-a-kind experiences that will turn each stay into a set of memories to cherish for life.
Let us be your host in Mykonos and we can't wait to meet you in person!